XENOSPACE
February 11 – June 15, 2023
Connie Bakshi
Ana María Caballero
CROSSLUCID
Libby Heaney
Harvey Moon
Eddie Wong
Ziyang Wu & Mark Ramos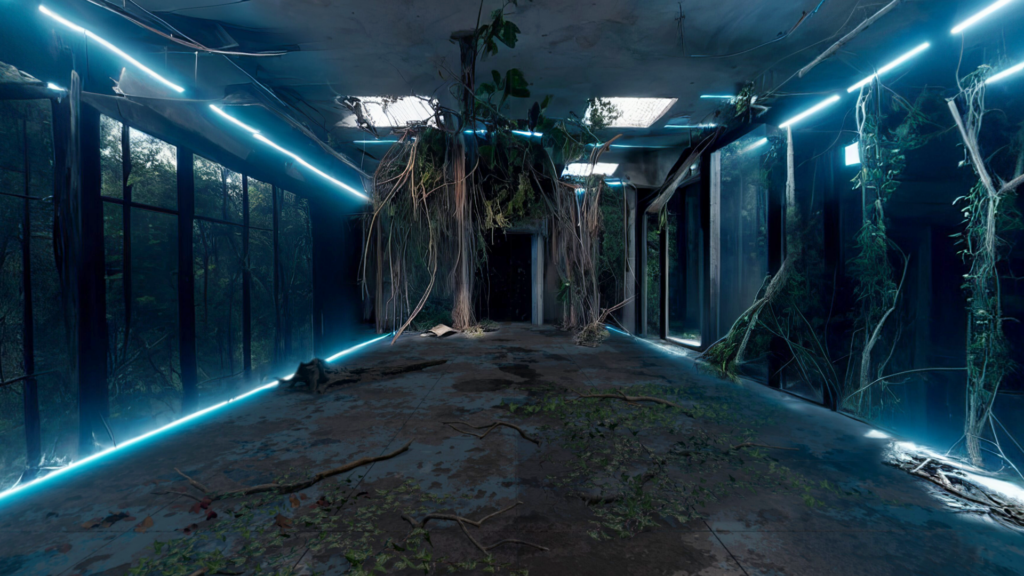 Enter Virtual Exhibition | PDF List of Artworks | XENOSPACE Collection
EPOCH is proud to present, XENOSPACE, a ground-breaking and experimental virtual exhibition that features seven artists exploring the collaborative boundaries of artificial intelligence and machine learning in their creative processes.

The title "XENOSPACE" alludes to an unusual or unfamiliar environment. Upon entering the exhibition, visitors are transported to the virtual "non-space" of a server room. This 360-degree panorama serves as the "initial image" that is processed through Stable Diffusion, generating the subsequent AI-assisted environments that serve as the backdrop for the artworks. As viewers navigate the installations, they will experience a disorienting and uncanny repetition that challenges their familiar frame of reference.

XENOSPACE responds to a significant moment in the field, as it reflects on the growing relationship between humans and machines and the impact of AI on creative expression. The exhibition serves as a benchmark, showcasing the expansive collaborative potential of AI and machine learning in contemporary art practices and exhibition building.
– chatGPT
On March 25th, the entire XENOSPACE exhibition is offered in an edition of 4 as an interactive HTML on the Ethereum blockchain. The proceeds will be equitably distributed among the artists and contributors. Additionally, seven individual artist panoramas will be available as interactive 360-degree panoramic editions.
---
Matt Stromberg, "Art Shows to See in LA This May," Hyperallergic, April 30, 2023.
Victor Sledge, "LIFELIKE: The Perforated Lines Between Technology and Our Bodies," Whitehot Magazine, April 2023.
Sofia de la Cruz, "LIFELIKE is an Exhibition Exploring Body Sovereignty During the New Era of the Internet," Hypebae, March 24, 2023.
Jesse Damiani, "Curating in Postreality," Right Click Save, January 16, 2023.
April Baca, "EPOCH Gallery," Journal of Curatorial Studies, vol. 11, no. 1, 2022, pp. 108-111.