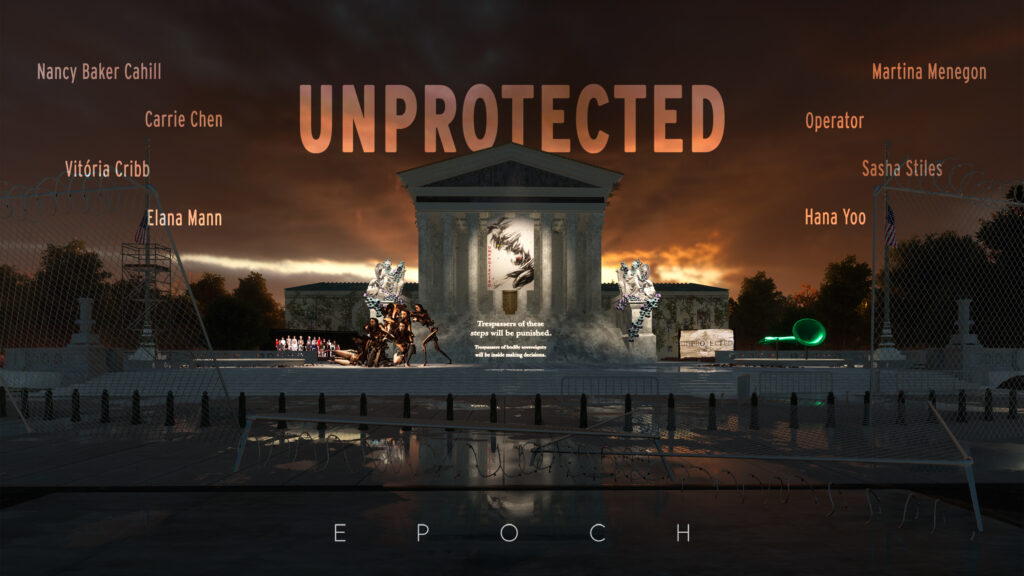 ---
UNPROTECTED – featuring Nancy Baker Cahill, Carrie Chen, Vitória Cribb, Elana Mann, Martina Menegon, Operator, Sasha Stiles, and Hana Yoo

Collectors receive:
8K virtual exhibition featuring a compilation of artworks by participating artists
(playable stand-alone Windows/Mac compatible file with hi-res audio, viewable on VR headsets)
Edition of 5 + 9 AP
12,424

EPOCH NFT acquisitions require Algorand's Pera Wallet. Download Pera Wallet here.

By acquiring the NFT you consent to EPOCH's Collector Agreement. This Agreement is included with the NFT's Certificate of Authenticity.
---
UNPROTECTED is modeled after the Supreme Court of the United States building and is organized in response to the US Supreme Court decision to overturn Roe v. Wade, leaving millions of Americans stripped of bodily autonomy. The overturning represents not just a constitutional crisis of personhood and an abject abuse of power, but one with a growing range of cruel externalities beyond forced birth; including preventable infections, lost access to crucial autoimmune medications, and death. The state-sanctioned criminalization and surveillance of those seeking and providing reproductive care has a radial impact on the health care providers, family and friends who are involved in supporting pregnant individuals. Increased morbidities, poverty and incarceration will be inevitable and widespread outcomes. It isn't enough to go back to the precarious protections afforded by Roe, in which many, especially impoverished people of color, were already forced into dangerous decisions between their livelihood and safe healthcare. Many lawmakers have already vowed even more sweeping national criminalization of pregnancy and contraception (along with increased targeting of all bodies that are not cisgender, heterosexual and male) as soon as Republicans once again control both houses of Congress. Voting blue is not enough. Today, our voices must be heard in every possible forum, state and federal: Reproductive justice and equitable abortion access must be enshrined in the Constitution, immediately. In this historic moment, artistic interventions will play a critical role in provoking meaningful public discourse and action. EPOCH offers an accessible and interactive opportunity to engage the public through powerful artwork, shared resources, and funding for reproductive justice.


The entire UNPROTECTED exhibition will be offered as a singular NFT containing a compilation of artworks by participating artists featured therein.


EPOCH is committed to an ecological, equitable, and sustainable model:
Ecological – EPOCH is working with Uncopied to mint its NFT on the Algorand blockchain which is the only pure proof of stake protocol and is 99.9% less impactful on our environment than proof of work blockchains.

Equitable – Through Algorand's smart contracts, we are able to split the profits between the participating artists, reproductive justice organizations, and EPOCH. 50% will be split evenly between all the participating artists, 25% will be donated to reproductive justice organizations, and 25% will remain with the gallery. Each participant will receive one Artist Proof (AP) edition. These AP editions are not part of the 5 publicly-offered editions for sale.

Sustainable – By acquiring the NFT, collectors help support the practices of its participating artists, climate change efforts, and the production of future EPOCH exhibitions. EPOCH has chosen to forgo an auction format in hopes to circumvent the accelerated speculation of the current market. This ecological and equitable model is also socially sustainable, paving the way for communities of artists to recognize that we don't have to be bound to the structures of traditional gallery systems.
Thank you for your participation, support, and solidarity!
---
N F T F A Q