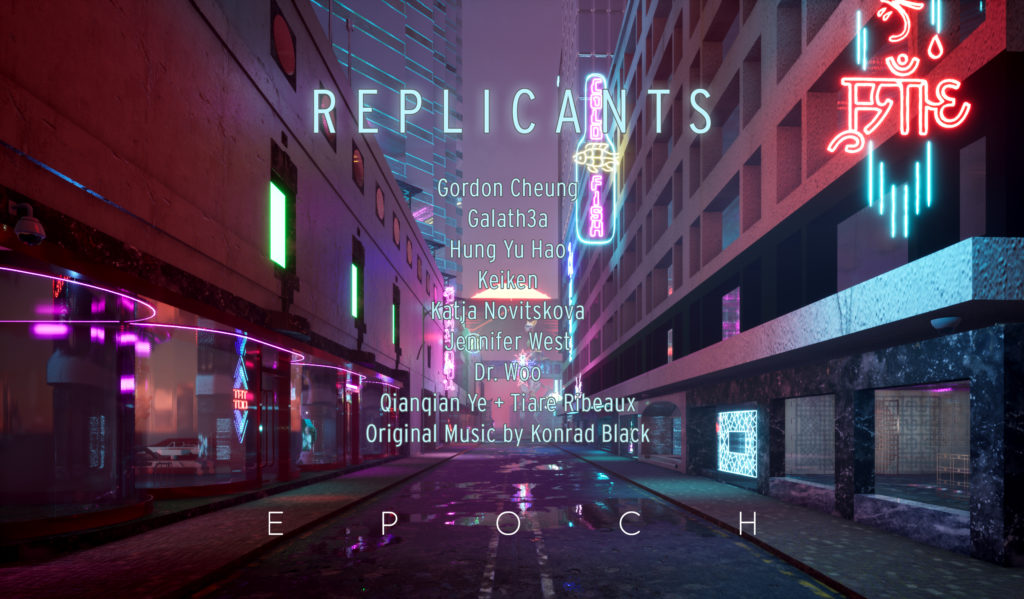 REPLICANTS – featuring Gordon Cheung, Galath3a, Hung Yu Hao, Keiken, Katja Novitskova, Jennifer West, Dr. Woo, Qianqian Ye + Tiare Ribeaux. Original Music by Konrad Black.

Collectors receive:
8K virtual exhibition featuring a compilation of artworks by participating artists (playable stand-alone Windows/Mac compatible file with hi-res audio, viewable in VR on Oculus, Vive, or Gear VR headsets)
Edition of 20 + 10 AP

2424
Contact gallery for fiat payment option.
(By acquiring the NFT you consent to EPOCH's Collector Agreement. This Agreement is included with the NFT's Certificate of Authenticity.)


---
REPLICANTS borrows its title from the fictional bioengineered beings introduced within the 1982 science fiction film Blade Runner. The exhibition's framing environment, modeled after Queen's Road Central in Hong Kong, extends a virtual reproduction of the street and surrounding buildings of Woaw Gallery where REPLICANTS will be featured. This digital inversion of physical space and materiality, while mirroring the malleability of the replica, more broadly considers the limitations and possibilities for techno-reproductions.

The entirety of the REPLICANTS exhibition will be offered as a singular NFT containing a compilation of artworks by participating artists featured therein. The REPLICANTS NFT is now available and is released in tandem with its inclusion in, and the opening of, the group exhibition TEKNOLUST: OBJECTOPHILIC FUTURES at Woaw Gallery, Hong Kong. The REPLICANTS NFT will be available until January 14, 2022 or until sold out.

EPOCH is committed to an ecological, equitable, and sustainable model:
Ecological – EPOCH is working with Uncopied to mint its NFT on the Algorand blockchain which is the only pure proof of stake protocol and is 99.9% less impactful on our environment than proof of work blockchains such as Ethereum.

Equitable – Through Algorand's smart contracts, we are able to split the profits between the participating artists and EPOCH. 70% will be split evenly between all the participating artists and 30% will remain with the gallery. 20% royalties for secondary market sales have been established which will be evenly distributed between all the artists and EPOCH. Each participant will receive one Artist Proof (AP) edition. These AP editions are not part of the 20 publicly-offered editions for sale.

Sustainable – By acquiring the NFT, the collector or institution will be supporting the production of future exhibitions and the practices of all of its participating artists. EPOCH has chosen to forgo an auction format in hopes to circumvent the accelerated speculation of the current market. This ecological and equitable model is also socially sustainable, paving the way for communities of artists to recognize that we don't have to be bound to the structures of traditional gallery systems.
Thank you for your participation, support, and solidarity!
---
N F T F A Q