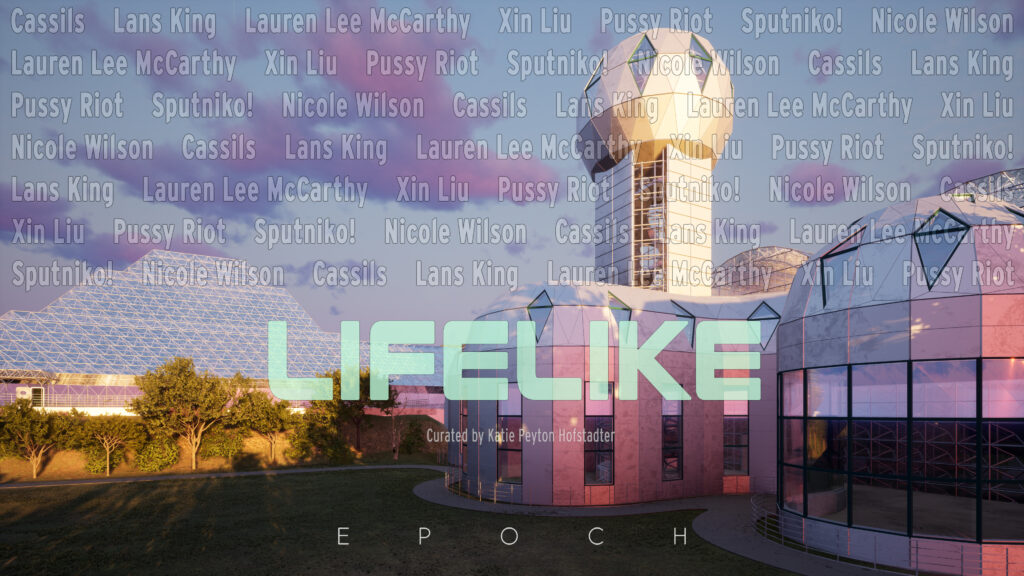 ---
LIFELIKE – featuring Cassils | Lans King | Lauren Lee McCarthy | Xin Liu | Pussy Riot | Sputniko! | Nicole Wilson | Curated by Katie Peyton Hofstadter

Collectors receive:
8K virtual exhibition featuring artworks by participating artists (interactive stand-alone app, Windows/Mac OS compatible file with hi-res audio, viewable on VR headsets)
Edition of 3 + 9 AP
19,494

EPOCH NFT acquisitions require Algorand's Pera Wallet. Download Pera Wallet here.

By acquiring the NFT you consent to EPOCH's Collector Agreement. This Agreement is included with the NFT's Certificate of Authenticity.
---
LIFELIKE explores the work of seven artists logging biological, genetic, and behavioral information on a digital ledger, invoking a conversation about how to take back body sovereignty in Web3. Inspired by Katie Peyton Hofstadter's text "Bodies on the Blockchain" for Right Click Save, EPOCH has placed the work of seven artists inside a virtual representation of BIOSPHERE 2, a failed twentieth-century experiment in self-sustaining post-ecocollapse living.


The entire LIFELIKE exhibition is offered on the Algorand blockchain in an edition of 3.
Proceeds will be distributed among the artists and contributors.


EPOCH is committed to an ecological, equitable, and sustainable model:
Ecological – EPOCH is working with Uncopied to mint its NFT on the Algorand blockchain which is the only pure proof of stake protocol and is 99.9% less impactful on our environment than proof of work blockchains.

Equitable – Through Algorand's smart contracts, we are able to split the profits between the participating artists, contributors, and EPOCH. 70% will be split evenly between all the participating artists and the curator, and 30% will remain with the gallery. Each participant will receive one Artist Proof (AP) edition. These AP editions are not part of the 3 publicly-offered editions for sale.

Sustainable – By acquiring the NFT, collectors help support the practices of its participating artists, contributors, and the production of future EPOCH exhibitions. EPOCH has chosen to forgo an auction format in hopes to circumvent the accelerated speculation of the current market. This ecological and equitable model is also socially sustainable, paving the way for communities of artists to recognize that we don't have to be bound to the structures of traditional gallery systems.
Thank you for your participation, support, and solidarity!
---
N F T F A Q