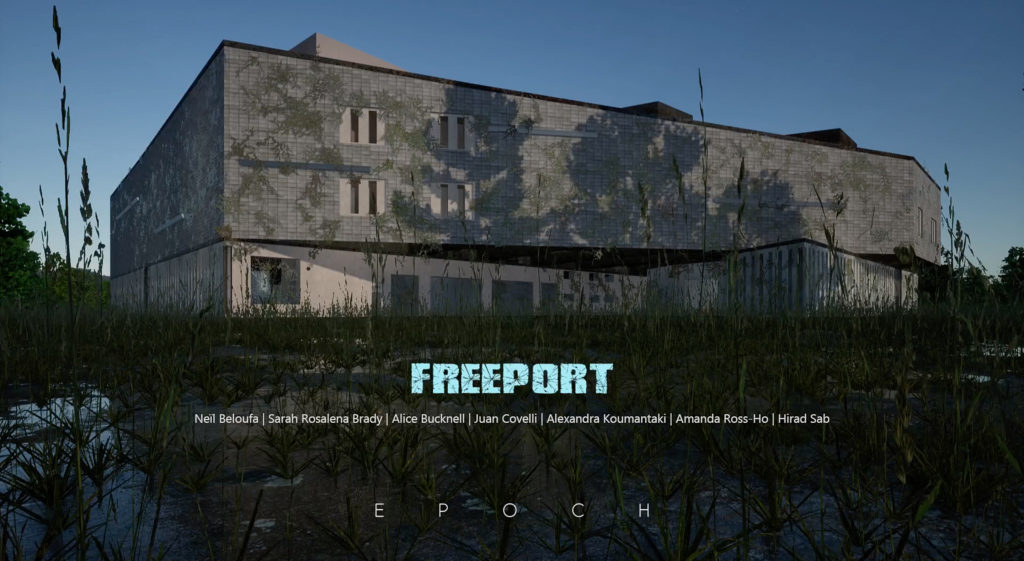 FREEPORT – featuring Neïl Beloufa, Sarah Rosalena Brady, Alice Bucknell, Juan Covelli, Alexandra Koumantaki, Amanda Ross-Ho, Hirad Sab

Collectors receive: 8K virtual exhibition featuring a compilation of artworks by participating artists (playable stand-alone Windows/Mac compatible file, viewable in VR on Oculus, Vive, or Gear VR headsets)
Edition 4 of 5 + 8 AP

9494
Contact gallery for fiat payment option.
(By acquiring the NFT you consent to EPOCH's Collector Agreement. This Agreement is included with the NFT's Certificate of Authenticity.)
---
FREEPORT is inspired by and modeled after the Luxembourg Freeport.
Freeports are unregulated, ultra-secure storage facilities that exist outside of the territorial tax jurisdictions of any country — they're often used by the uber-rich to hoard significant works of art. Because of their inherent lack of transparency, freeports are nefarious breeding grounds for fraud, money laundering, and tax evasion. There are many parallels that can be drawn between freeports and non-fungible tokens (NFTs). Both exist in unregulated territories, are constructs of capitalism, and can elicit unsavory practices. With a touch of irony, EPOCH seeks to circumvent these similarities by offering a unique concept for an NFT built upon an ecological, equitable, and sustainable model.

Since the beginning of quarantine, EPOCH set out to create critical and engaging exhibitions during a time of unrest. As an artist-run virtual experiment, the space functions as an inclusive community building platform inviting established and emerging artists working in both digital and analog mediums to participate.

With the emergence of the non-fungible token (NFT), many of our participating artists looked to EPOCH to bridge the gap between the crypto and contemporary art worlds. Being primarily artist-centric, the gallery has established itself as a virtual destination that challenges the status quo with its critical and innovative approach to curation and exhibition building. Continuing our ethos for innovation, we are introducing a progressive NFT and model that has yet to be explored.
EPOCH has minted the entire virtual exhibition as a singular NFT containing a compilation of artworks by the participating artists.
EPOCH is introducing an ecological, equitable, and sustainable model:
Ecological – EPOCH is working with Uncopied to mint its NFT on the Algorand blockchain which is the only pure proof of stake protocol and is 99.9% less impactful on our environment than proof of work blockchains such as Ethereum.

Equitable – Through Algorand's smart contracts, we are able to split the profits between the participating artists and EPOCH. 70% will be split evenly between all the participating artists and 30% will remain with the gallery. 20% royalties for secondary market sales have been established which will be evenly distributed between all the artists and EPOCH. Each participant will receive one Artist Proof (AP) edition. These AP editions are not part of the 5 publicly-offered editions for sale.

Sustainable – By acquiring the NFT, the collector or institution will be supporting the production of future exhibitions and the practices of all of its participating artists. EPOCH has chosen to forgo an auction format in hopes to circumvent the accelerated speculation of the current market. This ecological and equitable model is also socially sustainable, paving the way for communities of artists to recognize that we don't have to be bound to the structures of traditional gallery systems.
---
N F T F A Q