UNPROTECTED
August 6 – November 4, 2022
Nancy Baker Cahill
Carrie Chen
Vitória Cribb
Elana Mann
Martina Menegon
Operator
Sasha Stiles
Hana Yoo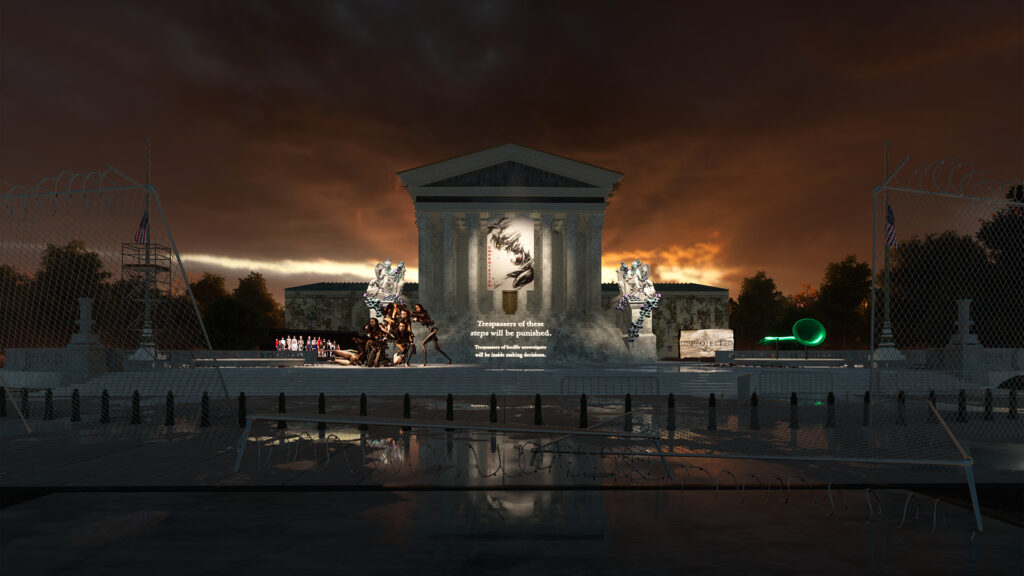 Enter Virtual Exhibition | PDF List of Artworks | Acquire UNPROTECTED NFT
UNPROTECTED is modeled after the Supreme Court of the United States building and is organized in response to the US Supreme Court decision to overturn Roe v. Wade, leaving millions of Americans stripped of bodily autonomy. The overturning represents not just a constitutional crisis of personhood and an abject abuse of power, but one with a growing range of cruel externalities beyond forced birth; including preventable infections, lost access to crucial autoimmune medications, and death. The state-sanctioned criminalization and surveillance of those seeking and providing reproductive care has a radial impact on the health care providers, family and friends who are involved in supporting pregnant individuals. Increased morbidities, poverty and incarceration will be inevitable and widespread outcomes. It isn't enough to go back to the precarious protections afforded by Roe, in which many, especially impoverished people of color, were already forced into dangerous decisions between their livelihood and safe healthcare. Many lawmakers have already vowed even more sweeping national criminalization of pregnancy and contraception (along with increased targeting of all bodies that are not cisgender, heterosexual and male) as soon as Republicans once again control both houses of Congress. Voting blue is not enough. Today, our voices must be heard in every possible forum, state and federal: Reproductive justice and equitable abortion access must be enshrined in the Constitution, immediately. In this historic moment, artistic interventions will play a critical role in provoking meaningful public discourse and action. EPOCH offers an accessible and interactive opportunity to engage the public through powerful artwork, shared resources, and funding for reproductive justice.

On August 13th, the entirety of the UNPROTECTED exhibition was released as a singular NFT containing a compilation of artworks by participating artists. A portion of the proceeds will go to support reproductive justice organizations. Click here to view a list of resources and organizations dedicated to reproductive rights and political action.


---
"Exhibition: UNPROTECTED," Les Nouveaux Riches, August 16, 2022.
Charlotte Kent, "NFTs Can Be Artistically Groundbreaking — Meet the Artists and Curators Leading The Way," ARTnews, June 10, 2022.
Lisa Stoiber, "Internet Explorer: Art Online #19 – About ecosystems, self-care and the power of pollinators," GalleryTalk.net, May 31, 2022.