CRYOSPHERE
May 14 – August 5, 2022
Carolina Caycedo
Patricia Echeverria Liras
Jiabao Li
Alfredo Salazar-Caro
Nathan Shafer
Jakob Kudsk Steensen
Studio Above&Below
CRYOSPHERE is inspired by the Matanuska Glacier in Alaska. The climate crisis has caused ice forms in Alaska to disappear at a faster rate than other glacierized regions on Earth. These arctic areas play a crucial role in regulating the planet's atmosphere and have been called "ground zero" for environmental collapse, as rising temperatures and melting sea ice impact local communities and the global destabilization of weather precipitation. The Matanuska Glacier has lost over 84 million tons of ice since 2002.

On June 18th, the entirety of the CRYOSPHERE exhibition was released as a singular NFT containing a compilation of artworks by participating artists and minted on Algorand which is a sustainable and green blockchain. A portion of the proceeds will go to support Cook Inletkeeper, an Alaskan non-profit organization which engages with local communities, Indigenous-led movements, and a strong coalition of groups working to build a bridge to the future by protecting wild salmon landscapes and addressing the climate emergency.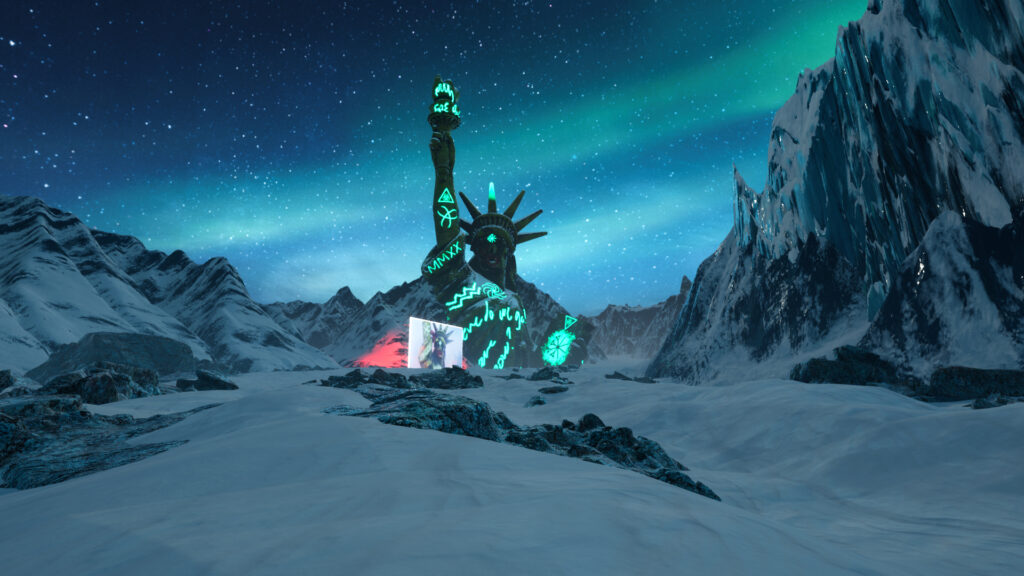 Enter Virtual Exhibition |
PDF List of Artworks |
Acquire CRYOSPHERE NFT
Charlotte Kent, "NFTs Can Be Artistically Groundbreaking — Meet the Artists and Curators Leading The Way," ARTnews, June 10, 2022.
Lisa Stoiber, "Internet Explorer: Art Online #19 – About ecosystems, self-care and the power of pollinators," GalleryTalk.net, May 31, 2022.
Charlotte Kent, "EPOCH Gallery and Blockchain's New Ecology," Right Click Save, May 30, 2022.
Kristina Borhes, "Peter Wu+," Coeval Magazine, May 11, 2022.
Brian Droitcour, Peter Wu+,"EPOCH Gallery," Outland, February 7, 2022.